Although everyone who knows me well knows that Hot Tamales are my favorite candy, I actually have an under-the-radar second favorite candy – chocolate covered gummy bears. Something about the mixture of sweet gummies with smooth milk chocolate is truly addicting and I've been loving them ever since my early days of trolling the mall and loading up at the Sweet Factory. So since it's my birthday week and I've been busy celebrating, today I'm sharing a quick post to go along with one of the quickest and easiest treats ever. But even though it's a simple one, there are still plenty of rainbow colors and impressive chocolate swirls here to deserve its spot up on the blog. Gummy bears,  chocolate, and sprinkles – happy birthday to me!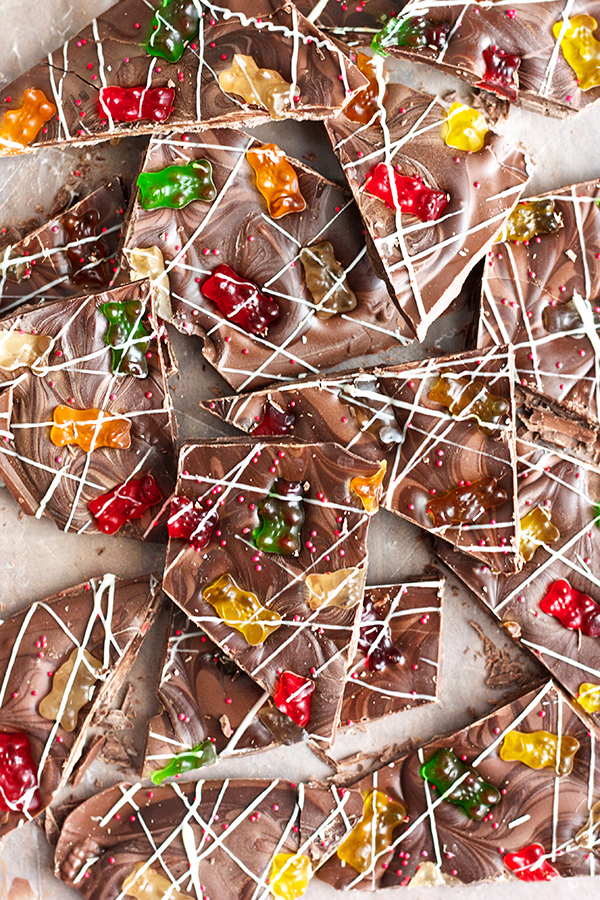 When I say this is easy to make, it literally only involves melting chocolate, swirling it around, popping on a few gummy bears, and decorating as you wish with sprinkles and more melted chocolate. I've made peppermint bark before, but I don't know why I haven't been experimenting with more bark flavors until now. Have you seen Just a Taste's different barks? So striking and beautiful and sooo easy to make. And because I have no idea how I'd go about making chocolate covered gummy bears at home, this is such a great way to get all the flavors together with no individual dipping. I would recommend using even more gummy bears if you make this bark; I loooved the combination of the chocolate and gummies and wanted maximum bears in every bite. I used mostly milk chocolate since that's the classic kind of chocolate used with the chocolate covered gummy bears, but couldn't resist a swirl of dark chocolate and a drizzle of white to add some flair.
If you have some spare minutes this weekend and want to make a fun party treat with plenty of color and addicting taste, this bark is for you. I realize I've been throwing out a lot of intense recipes recently (ahem, Oatmeal Cookie Cheesecake Cake) but anyone can put this one together, and I'm sure kids would love to get involved with making it too. And you must use Haribo gummy bears – they're the absolute best!!
Chocolate Covered Gummy Bear Bark
Ingredients:
2 cups milk chocolate baking melts or chips*
1 cup dark chocolate baking melts or chips*
2, 5 oz bags Haribo gummy bears
1/2 cup white chocolate chips
Sprinkles
*I used candy melts so I didn't have to bother tempering the chocolate. This helps the chocolate keep a nice shine after its set. If you only have regular chips, it's no big deal, it just won't be as shiny!
Directions:
Line a large baking sheet with parchment paper and set aside.
Melt both the milk and dark chocolate chips in separate bowls in the microwave in 30 second intervals, stirring well between each interval, until completely smooth. Pour the milk chocolate onto the parchment paper and use an offset spatula to smooth it on into an even layer. Add dollops of the milk chocolate on top of the dark, and use a toothpick to swirl to two together. Add the gummy bears to your chocolate in a random pattern. Place bark in the fridge to allow the chocolate to set, about 15 minutes.
Then melt the white chocolate in a ziploc bag in the microwave also in 30 second intervals, and snip the corner to make it into a decorating bag and drizzle on top of the bark. Add sprinkles if desired. Return the bark to the fridge for another 15 minutes to set.
Transfer bark to a cutting board and slice up bark into desired pieces. Store in an airtight container at room temperature until ready to serve.