Valentine's Day is a little over one week away and I'm celebrating properly this year with some rosé, champagne, and red wine gummy bears! I saw the rosé version on Sprinkles Bakes last summer and immediately ordered the gummy bear mold, but am just FINALLY getting around to trying these little guys out. Last summer Sugarfina had an enormous waitlist to order their rosé gummy bears, but by now they're finally fully in stock. Which is good and all, but who wants to pay $9 for a tiny box of gummy bears?? Making them is not very hard, and you get to try other wine varietals too!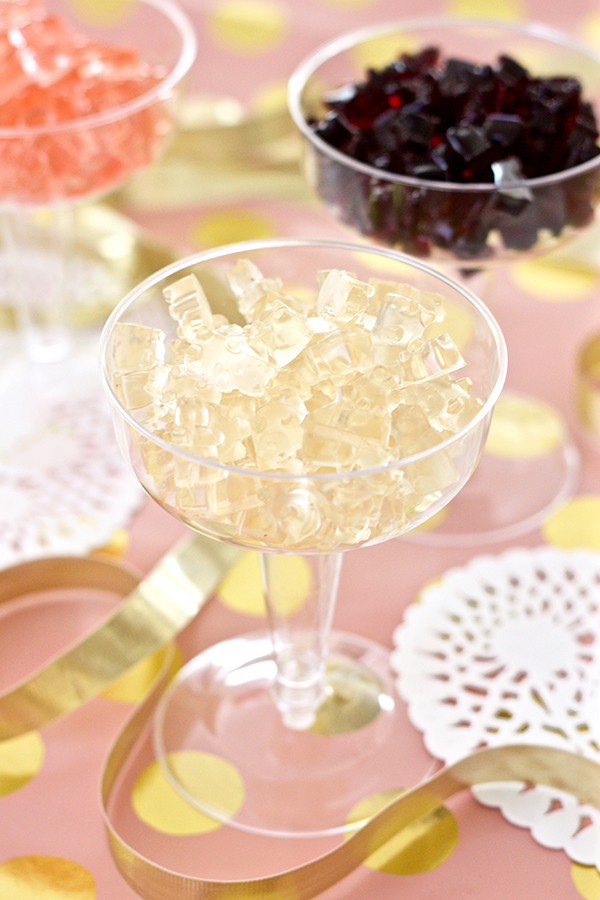 I made 3 separate batches to try out different wines, and I think the champagne ones were my favorite. Probably because I bought some sparkling wine extract to use for the champagne batch that added some extra flavor that I loved. Otherwise, the gummy bears taste mostly like what you'd expect – slightly sweeter wine. Be warned, homemade gummy bears aren't quite as chewy as store-bought, they're a bit softer. Which is good from a dental standpoint, but not so great for candy authenticity. Either way, they're really pretty, tasty, and a wonderful party treat or homemade Valentine's Day gift.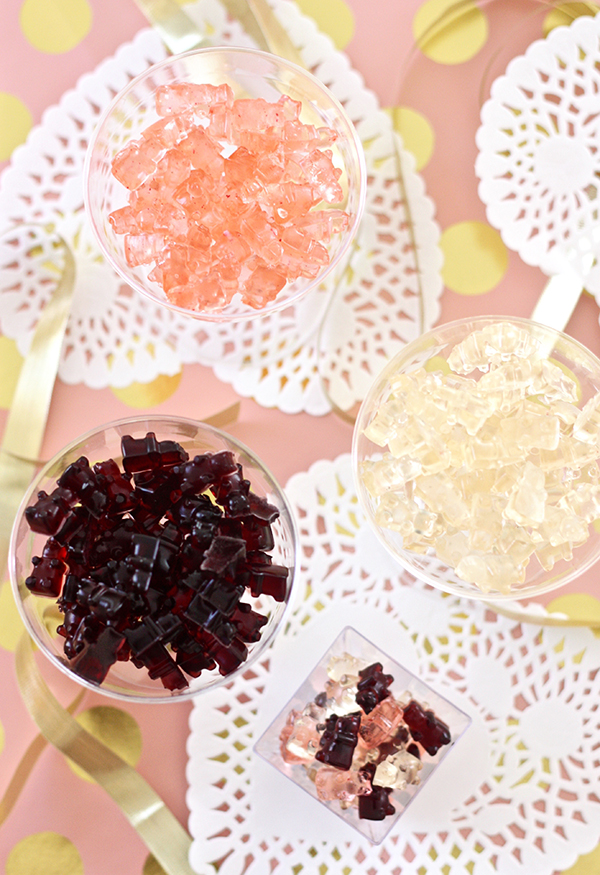 Each batch will make about 100 gummy bears, which fills up the 2 molds almost perfectly. It's a bit painstaking to fill up each individual mold (I used a teeny, tiny measuring cup with a spout, or you could use an eyedropper), and also to pop out each gummy bear when they're set, but nothing that is technically difficult. Making homemade candy sounds intimidating, but if you can boil water, you can make this recipe! I added an extra half-tablespoon of gelatin to give the bears a bit firmer texture, and also recommend serving them cold so they retain that firmness as much as possible. Served in little champagne flutes, they make an adorable centerpiece to snack on and get a little Valentine's Day buzz.
Champagne, Red, and Rosé Wine Gummy Bears
Ingredients:
1/2 cup wine of your choice (red, white, champagne, rosé)
3 tbsp unflavored gelatin
1/4 cup granulated sugar
Few drops sparkling wine extract
Directions:
Place your gummy bear molds on a baking sheet with a lip around the edges. Pour wine in a small saucepan and sprinkle gelatin over top. Whisk together until the gelatin is dissolved. Then, bring the mixture to a simmer over low heat, whisk continuously so that the gelatin doesn't clump up. Add the sugar and a few drops of sparkling wine extract, and continue stirring until the sugar is dissolved.
Turn off heat and keep the saucepan on the store to keep the mixture warm as you work. Moving quickly, use an eyedropper tool or small measuring cup with a spout to fill the molds with the gelatin mixture. Place the molds in the fridge for an hour to firm up.