While I did have a few "semi" healthy recipes lined up to share in the month of January, things got busy (story of all our lives!) and here I am on January 22nd sharing a recipe only for buttercream made mostly of sugar, butter, and cake mix from a box. Not exactly the stuff resolutions are made of, but definitely the dose of happiness some of us need this time of year. Who needs another peanut butter oat bar when you can have obnoxious sprinkles and rainbow colored everything on a gloomy, cold January night!?
I wanted to share this frosting recipe all by itself, because it really deserves its own post. And I've already shared a homemade funfetti cupcake recipe here on the blog, so it's only fair that the true star of the show – this ridiculously yummy buttercream – gets the spotlight. There's funfetti cake mix IN THE FROSTING here. Another secret ingredient is the butter-flavored vanilla emulsion that's included. Sounds crazy, but it adds so much richness to the flavor and makes it taste more "cake-like" than adding just plain vanilla extract. I also added even more sprinkles than the recipe calls for, and I'm obsessed with how purely happy these cupcakes turned out. One note about the sprinkles – I suggest grabbing the rainbow sprinkles from the ice cream topping section, not the cake decorating section. They're sturdier and the colors won't bleed as much into the white buttercream when you fold them in.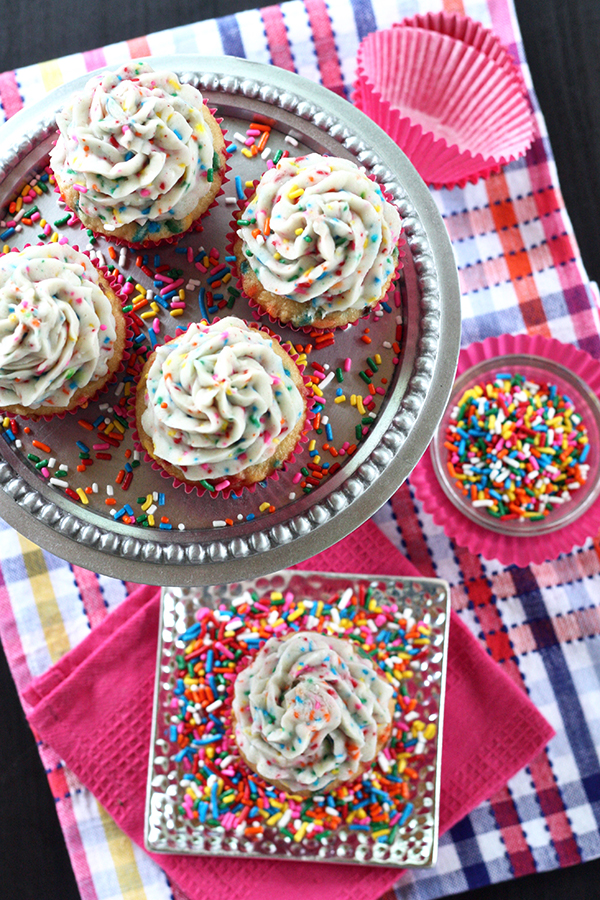 Whether you have an upcoming birthday celebration, you're looking for a colorful Valentine's Day treat, or you just need to stick your head in a bowl of rainbow sprinkles for a bit to escape the real world, this buttercream will do the trick. Whip up a batch of boxed funfetti cupcakes if you need to, but step it up a notch with your own batch of funfetti buttercream – it's easy and you will never go back to canned frosting again. Happy January everyone, may your year be filled with happiness, sweet memories, and plenty of rainbow sprinkles!
Funfetti Buttercream
Ingredients:
1 cup unsalted butter, at room temperature
4 cups powdered sugar
1/4 cup funfetti or white/yellow cake mix
1 tbsp buttery vanilla emulsion
1/4 cup heavy whipping cream
3/4 cup rainbow ice cream sprinkles
Directions:
In the bowl of an electric mixer, beat the butter on medium-high speed until smooth. Add the powdered sugar and cake mix and beat on medium-low until well-incorporated. Add the buttery vanilla emulsion and beat again on medium-high speed until smooth, about 2-3 minutes.
Add the heavy cream and beat until just incorporated. Then, increase the mixer speed to high and whip until light and fluffy, scraping down the bowl as necessary, for about 5 minutes. Add the rainbow sprinkles, and fold gently into the buttercream by hand with a rubber spatula. Transfer frosting to a decorating bag fit with a large closed star tip and pipe swirls as desired.