There's been a lot of chocolate, peanut butter, and other very decadent flavors on the blog recently, so today we're taking things in a totally different direction. Pink popcorn! Or more specifically, strawberry flavored popcorn made with some strawberry cake mix and white chocolate. I realize I should probably already be posting Christmas recipes (let alone Thanksgiving) based on the way the outside world is jumping the gun with holidays, but today we're doing pink instead of red. Red is causing enough controversy as it is, especially in the form of cups, so this cheerful pink popcorn full of strawberry flavor and pretty sprinkles seems appropriate regardless of the season.
I love making fun popcorn recipes for big gatherings because one batch feeds a huge crowd and they're ALWAYS a big hit. I made the apple spice popcorn for the office last month, and everyone loved it so much, so I knew another popcorn creation would be perfect for the baby shower we threw for one of the hygienists. And then once I decided to make popcorn (pink of course for the baby girl), I couldn't not make these adorable bags with "Amy's ready to POP" tags to bring everything together. I just used cellophane bags and printed paper folded over and stapled to make individual bags for everyone in the office. It came out really cute and perfect for a shower for a sweet baby girl!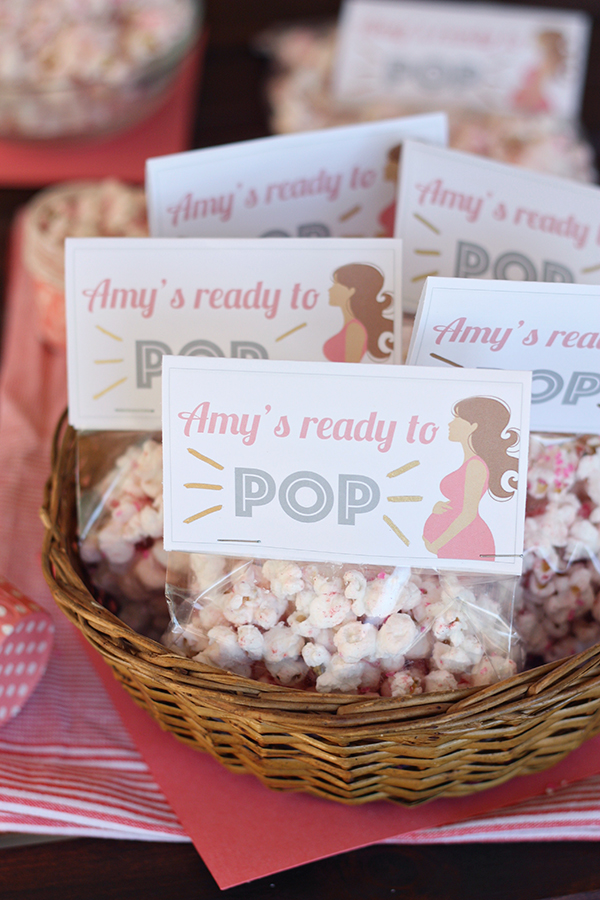 One of my absolute favorite popcorn recipes is the Funfetti Popcorn one, and that's made with actual cake mix combined with white chocolate. To get a pretty pink color and strawberry flavor in this recipe, I just used strawberry cake mix with some freeze-dried strawberries mixed in as well. The result was just as great as the original funfetti version, with tons of strawberry flavor. I couldn't resist adding some pink sparkling sugar as well to give it a little more pink color and pizzazz.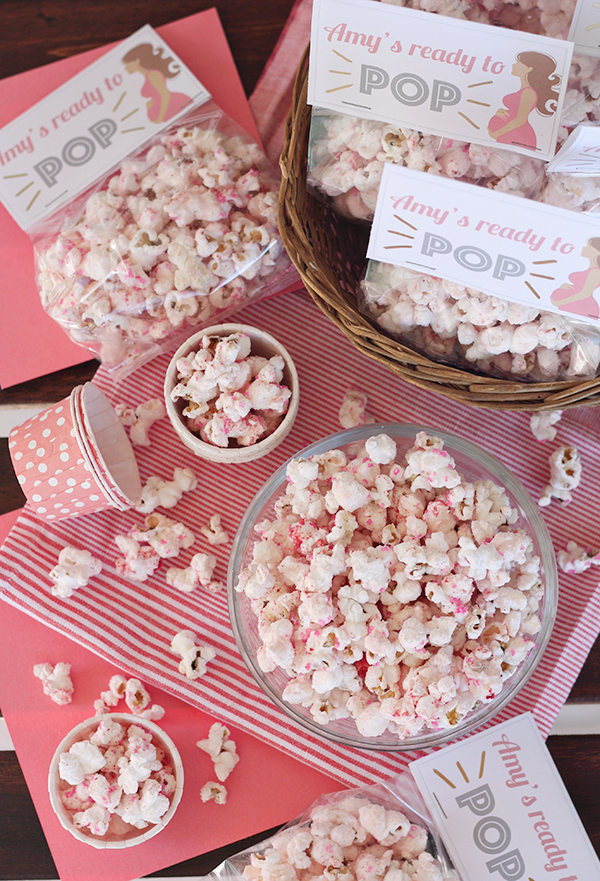 Strawberry Shortcake Popcorn
Ingredients:
1.5 ounces freeze-dried strawberries (about 3/4 cup once blended into fine crumbs)
1/3 cup popcorn kernels*
3 tbsp coconut oil (or canola oil)
1-1/2 cup white candy melts
1/4 cup vegetable oil
1 cup strawberry cake mix
Pink sprinkles or sparkling sugar
*If you don't want to use kernels, pop 2 bags of microwave popcorn instead
Directions:
Place freeze-dried strawberries in a blender and pulse until they form a powdery mix with only some small crumbs. Set aside.
Place the oil in a medium-large pot with a lid and pour in the popcorn kernels. Turn on the heat to medium-high and allow the oil and kernels to heat. When the popcorn starts popping, start to gently shake the pan back and forth. Try to keep the lid slightly off to allow some of the steam to release. Once the popping slows down, remove the pot from heat and transfer popcorn to a large bowl.
Cover a large cookie sheet with wax paper and set aside. Place the candy melts in a microwave-safe bowl and microwave in 30 second intervals, stirring well between each interval, until completely smooth. Add the vegetable oil, strawberry cake mix, and powdered strawberries and stir well. Pour the white chocolate mixture over the popcorn and use clean hands or a rubber spatula to spread the chocolate around so that it is evenly distributed on the popcorn. Spread the coated popcorn onto the prepared cookie sheet so that it is almost in a single layer. Sprinkle pink sprinkles on top and allow candy coating to dry completely (you can also put it in the fridge for 10 minutes to speed up the process). Store popcorn in an airtight container for up to one week at room temperature.
If you saw the Butterfinger Cupcakes I posted last week for the same shower, I thought I'd share how I dressed them up to match the coral and gold theme below. I baked them in cute polka dot mini cupcake cups and decorated with little coordinating paper straw flags. And congratulations to Amy who officially "popped" yesterday – welcome to the world baby Ava!